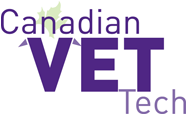 Canadian Vet Tech uses the same unique format as Canadian Vet newsmagazine to keep veterinary technicians and animal health technologists informed through coverage of both national and international conferences. Initiated in March 2009, each quarterly issue offers up-to-date information on animal health and client management, animal behaviour, and veterinary communications topics. The Technically Speaking column, written by Kathleen Dunbar, RVT, challenges vet techs on a variety of important and interesting clinical scenarios. Each issue also features a 'Day in the Life of' essay, written by a vet tech about their experiences in this career. All articles in Canadian Vet Tech are reviewed and approved prior to publication.
Continuing Education
Every issue of Canadian Vet Tech includes 3 articles with associated CE quizzes that can be completed online, at www.k2publishing.ca, to earn CE credits. Vet techs can complete a total of 12 quizzes each year to earn CE credits. Both current issue quizzes, and quizzes from prior issues, will be available for completion online. Canadian Vet Tech CE quizzes are approved for credit by all of the provincial accrediting associations in Canada.
Technically Speaking, by Kathleen Dunbar, RVT, VTS (Clinical Practice-Canine/Feline)
In each issue of Canadian Vet Tech we run an outstanding column by registered veterinary technician Kathleen Dunbar that offers vet techs an opportunity to really challenge themselves. Each article consists of 10 multiple choice questions. You can take the quiz online under our CE quizzes menu and then go to www.k2publishing.ca/technicallyspeaking.html to read an explanation of the answers.


Building a Fear FreeSM team in your practice
BANFF, AB – The central concept of Fear FreeSM is to create an environment in veterinary medicine that minimizes fear, anxiety, and stress (FAS) for the patients, clients, and veterinary team. It allows the healthcare team to handle the patient, and administer procedures safely for all involved. Like most culture changes, Fear Free is most effective when integrated from the front to the back of the house; when the entire hospital is committed and all team members are on board, compliance becomes infectious, explained Lisa Radosta, DVM, DACVB, presenting at the CanWest Veterinary Conference. Team members inspire and hold others to the new standard in a way that allows the full benefits for the clients, patients, and team.
The four cornerstones of a Fear Free practice are understanding FAS, good communication, a considerate approach, and gentle control.
Practice roles
The leader sets the tone and culture of the practice, whether it is the hospital manager, medical director, or lead technician. Dr. Radosta said that when introducing new concepts or a change in status quo, resistance is inevitable. Team members need to see how this change will help patients, clients, and the team. The culture change to Fear Free should be presented as an evolution, not a correction of previous incorrect behaviour. She used the example, "We know more now, so we will be doing things differently" feels different than "You were too rough restraining animals before so we are showing you how to do it correctly." Like anything else, team members will need practice because new skills take time to acquire.
Communication is an important part of Fear Free. All team members have to feel comfortable sharing their concerns, successes, and failures for the betterment of the team's efforts.
The team members with the most seniority are sometimes the most resistant to change. For years, they have been rewarded for certain techniques and have honed their skills. Now, those skills may be out of date or not in keeping with the new Fear Free culture. She suggested getting team members who are most likely regarded by others as leaders to buy in, as this is important for complete integration.
Fear Free practices increase efficiency because they allow for easier procedures like nail trims, transport of patients, and restraint. Patients will have a better quality of life when they are less stressed, and the team will be happier and more closely bonded when they don't have to struggle with as many patients during the day. Dr. Radosta noted that an additional benefit is that clients are more compliant, coming in for rechecks more frequently when the stress of the veterinary visit has been reduced or eliminated. Having an easier to manage pet encourages a strong human-animal bond, which is better for the patient, reducing relinquishment.
Dr. Radosta suggested introducing the Fear Free concept with one idea that can be implemented throughout the hospital. Expectations should be set with a timeline and measures for success. For example, "By the end of this month, all team members will be able to identify 5 signs of FAS in dogs and cats", OR "By the end of this month, all team members will have talked to at least 10 clients about their cat or dog's FAS".
Team members who can be forces for change should be recruited, and given incentives to lead. Facilitate team building by rewarding those who implement the new directives, organizing monthly contests with rewards, such as a credit on the employee's hospital bill or a coffee shop gift card, to excite the team and jumpstart change.
Regular team meetings can be used to share successes and troubleshoot challenges. Between meetings, team members can be encouraged to email leadership with successes and challenges, which can be shared with the group. Once team members start to help each other, the implementation efforts will take off because the team will take ownership of the implementation.
Pre-visit preparationThe client care representative (CCR) is often the main communicator regarding pre-visit preparation. They should review the emotional record of the patient prior to contacting the client to confirm the scheduled appointment. Any special accommodations that have been noted in the record should be reviewed with the client. Some general recommendations include:
Acclimate and train the pet for transport (carrier, crate, seatbelt) - a qualified professional trainer may need to assist the client with this training
Provide non-slip surfaces during transport to prevent sliding
Use aroma and acoustic therapy to create a calm environment
If medically warranted, bring a hungry pet and the pet's favourite treats as a distraction device
Bring familiar objects from home, such as a bed or toy to help the pet relax
Reception area
The CCR should be ready to assist the client entering the hospital. Using a considerate approach, the pet should be left to decide whether it wants to interact. Pending the reason for the visit and the emotional record of the patient, the CCR should be ready with the patient's preferred treats. The patient's emotional state should be evaluated and documented/communicated prior to handing off to the next team member. Although the CCRs are the primary face of the reception area, all veterinary healthcare team members in the area should assist with creating a Fear Free environment. Management will have the responsibility of orchestrating certain cosmetic changes that can create a more relaxed and inviting reception area, such as using natural or incandescent lighting, avoiding seating near entrances and exits, and using barriers to block sight lines.
The scale

The scale is often a dog's first obstacle in a hospital visit, creating fear, anxiety, and stress unless special considerations are made. Ideally, the scale should be stable, with a non-slip surface, and in an open area to avoid the dog having to walk into a corner to get on it. Using a treat trail and/or motion to encourage the dog to make the choice to sit on the scale will help.
Exam room

Ideally, once the pet has acclimated to the room, it is best to bring the procedures to the pet whenever possible. This allows the pet to stay in an area that is safe and comfortable, and with its owner. Gentle Control and a Considerate Approach should be used while performing procedures.
Each exam room should be stocked with a variety of treats and toys. A water bowl should be provided for each patient. Cats should be provided with access to a litterbox, as well as hiding spots to feel safe. If possible, designate exam rooms as feline or canine only.
Treatment room

Team members should be informed before the patient is brought to the treatment area, and accommodations made to avoid or minimize potentially frightening stimuli. All supplies should be prepared before bringing the patient into the area, to minimize the time it has to be there.
Housing area

The kennel team is responsible for recognizing FAS in patients and recording and communicating this to others. Barriers can be used such as cage covers, hiding boxes, or screens to decrease stress-inducing stimuli. Appropriate placement of patients should be considered; cats generally prefer to be up high, and excitable dogs should be placed in a low-traffic area. Whenever possible, use a considerate approach when removing the pet from a cage or kennel and close kennel doors quietly. Conversations should be quiet and soft voices used to maintain a calm and relaxing environment.
Summary

The goal of each visit is for the pet and client to have a positive and fun experience, rather than a neutral or negative experience. Each veterinary team member plays a vital role in creating a Fear Free visit for the patient and client. 
For more information, visit www.fearfreepets.com. CVT