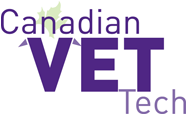 Canadian Vet Tech uses the same unique format as Canadian Vet newsmagazine to keep veterinary technicians and animal health technologists informed through coverage of both national and international conferences. Initiated in March 2009, each quarterly issue offers up-to-date information on animal health and client management, animal behaviour, and veterinary communications topics. The Technically Speaking column, written by Kathleen Dunbar, RVT, challenges vet techs on a variety of important and interesting clinical scenarios. Each issue also features a 'Day in the Life of' essay, written by a vet tech about their experiences in this career. All articles in Canadian Vet Tech are reviewed and approved prior to publication.
Continuing Education
Every issue of Canadian Vet Tech includes 3 articles with associated CE quizzes that can be completed online, at www.k2publishing.ca, to earn CE credits. Vet techs can complete a total of 12 quizzes each year to earn CE credits. Both current issue quizzes, and quizzes from prior issues, will be available for completion online. Canadian Vet Tech CE quizzes are approved for credit by all of the provincial accrediting associations in Canada.
Technically Speaking, by Kathleen Dunbar, RVT
In each issue of Canadian Vet Tech we run an outstanding column by registered veterinary technician Kathleen Dunbar that offers vet techs an opportunity to really challenge themselves. Each article consists of 10 multiple choice questions. You can take the quiz online under our CE quizzes menu and then go to www.k2publishing.ca/technicallyspeaking.html to read an explanation of the answers.


Technical large animal rescue 101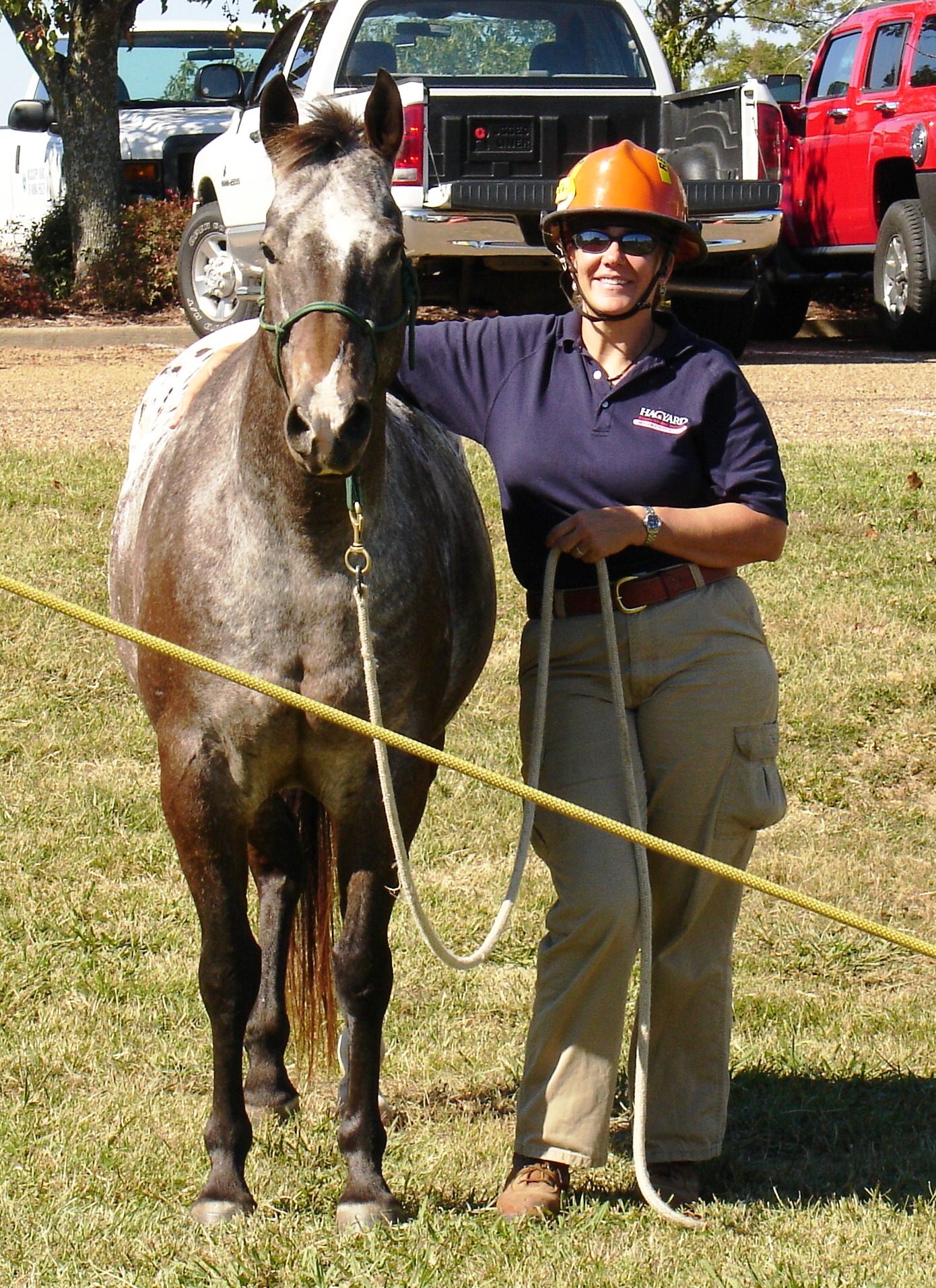 By Rebecca Gimenez, PhD
Large animal emergencies occur every day. Rescues involve getting the animal out of its predicament safely and protecting the safety of the responder, and veterinarians and technicians are central to keeping animals as safe as possible.  First and foremost, it is important for vets and techs to develop a relationship with local emergency responders before a disaster or emergency occurs, as they have necessary equipment and resources. They should be invited to your facility to evaluate it and make recommendations on evacuation procedures and response to fires.
Technical Large Animal Emergency Rescue (TLAER) scenarios

Frantic, distressed owners and bystanders, and emergency response personnel that are inexperienced in large animal rescue aspects, are the biggest obstacles on TLAER scenes.
In all cases, it is important to call in the professional emergency responders/firefighters because they are experts at extricating people victims; providing expertise in heavy and special rescue scenarios; providing exposure protection for rescuers on scene; setting up and running incident command; setting up scene security and restraining irrational people; regulating traffic flow around wrecks and incident scenes on the road; and providing humane field euthanasia to animals determined to be dangerous to humans or unsalvageable medically, or under advice of a veterinarian.
A veterinarian and staff should be called to triage animal victims, and sedate animals if indicated; initiate first aid and treatment if possible; direct emplacement of equipment on the animal; report to operations officer and liaison with animal owner (if present); and provide humane euthanasia to animals determined to be dangerous to humans or unsalvageable medically.
Most common TLAER-related first aid scenarios
Severe lacerations
Fractures
Burns/inhalation injury
Foreign object trauma
Shock
Hypothermia
Heat stroke/hyperthermia
Common rescue mistakes

There are three critical mistakes that veterinarians can make in their zeal to respond to TLAER type emergencies. Fortunately it is easy to correct these hazards and remain safe on a scene.
1. The Incident Commander (IC) should not be the veterinarian, unless they have formal and significant training through the fire service or law enforcement.  Instead, they coordinate with operations on scene, and communicate with the team.
All individuals and organizations involved will respond under the Incident Command System (ICS), a standardized on-site management system designed to enable effective, efficient incident management by integrating a combination of facilities, equipment, personnel, procedures, and communications operating within a common organizational structure.  The ICS is used to manage an incident or a non-emergency event, and can be used for both small and large situations.
In disaster situations, failure to possess this certification could result in dismissal from the response team. In localized emergencies, it may result in failure to coordinate with the team.
Veterinarians and staff should learn the proven incident management skills as part of the ICS since they are expected to address concerns for animal victim safety and welfare.  Use of ICS and TLAER techniques on scene promotes the safety of both human responders and animal victims on large animal emergency rescue scenes while addressing numerous security, media, and safety issues that often rise out of these incidents. 
The basic principles of the ICS are fully applicable to large animal incidents and include the following:
Planning: An incident action plan must be developed for every incident (simple and verbal, or complicated and written) depending on the size and length of response.
Team approach: Every responder acts as part of a team, and knows their job.
One coordinator: The IC coordinates the incident response; he/she is the leader and shoulders the responsibility for the entire scene.  This is normally a firefighter or police officer who has extensive training and certifications in this area.
Span of control: One person can only coordinate the activities of three to seven responders.
Safety: This the primary reason for the team approach, for the victim, and the rescuers.
No freelancing: Individuals responding/acting on their own constitute a risk and a liability to others on the scene. The IC has the authority to forcibly remove them from the scene.
2. A veterinarian should be put in charge of operational procedures instead of handling the animal and making medical assessments. If possible, a veterinarian, veterinary technician, or someone with large animal handling expertise should take over the animal handling job when they arrive as they are in the perfect position to advise the operational personnel about the medical status and potential behaviour or reactions of the animal, as well as approach techniques and body position.
Whether it is a single incident or a large-scale disaster, the veterinary practitioner is one member of a group of emergency responders. In the case of both small and large-scale events, it is essential for the professional practitioner to know how to interact and be a part of the team with other emergency response individuals from county, provincial, federal, and private emergency response organizations.
3. Failure to treat an animal for hypothermia immediately after the rescue.  Risk factors include dehydration, poor body condition, age, body surface/volume (mass) ratio, general anesthetics, rough handling.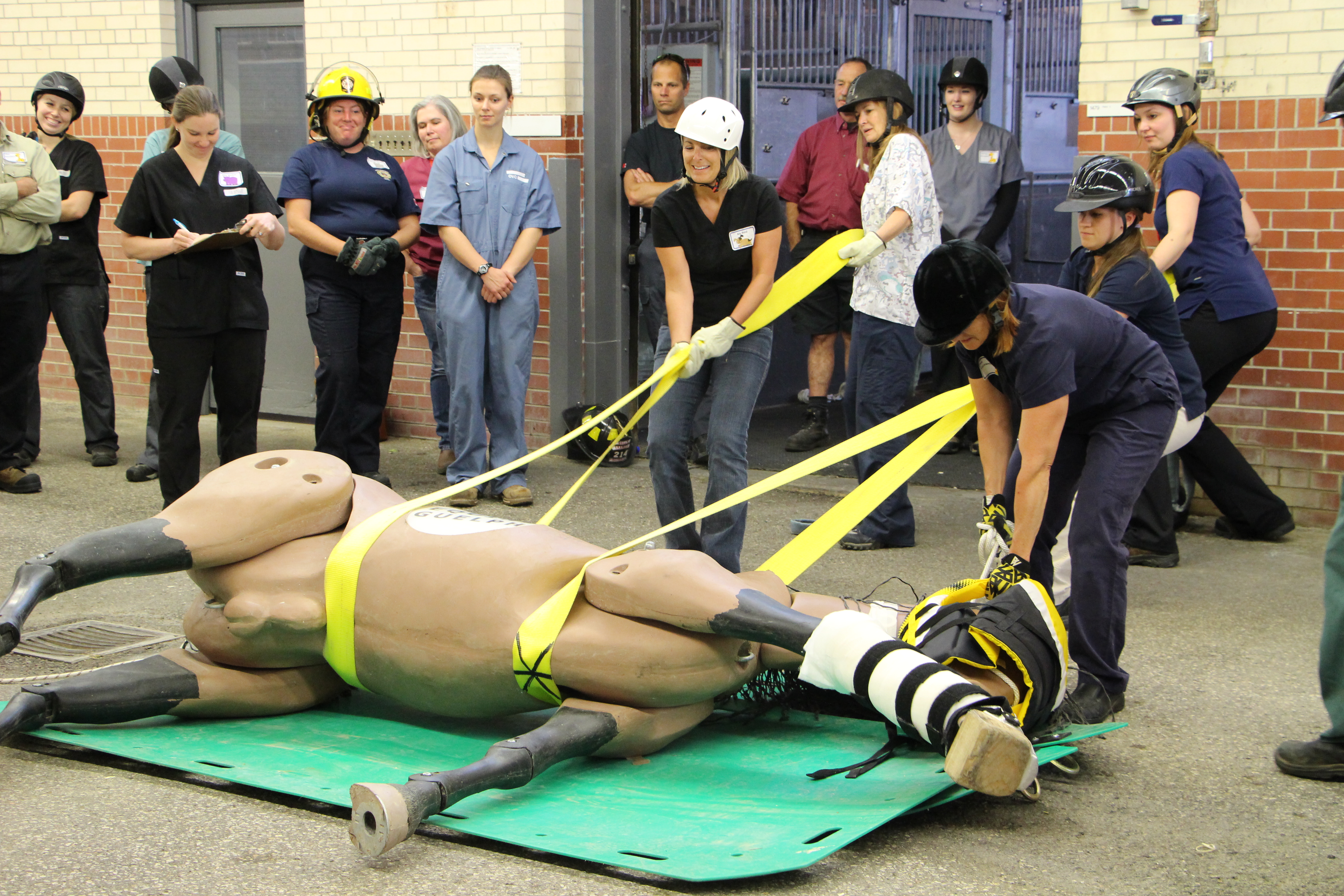 Recently, Dr. Gimenez worked with Equine Guelph to assist with training for the Ontario Veterinary College's Large Animal Hospital. More than 50 staff, registered veterinary technicians, clinicians, interns, and residents from the University of Guelph's OVC joined a half-day course, focusing on safe transfer and handling of large animals. Participants practiced assembling halters from ropes and straps, perfected using a sideways drag and roll to position a horse onto a glide, and worked as a team to set up an Anderson sling in the Large Animal Hospital. Anderson slings can be used in multiple scenarios to lift a large animal or to elevate an injured animal and relieve pressure on its limbs.
Special considerations

Insurance
The insurance company should be contacted regarding any insured animals. However, the insurance company does not drive the incident scene; they simply should be taken into account. They will want pictures and evidence as well as police reports, veterinarian comments, etc.
Legal responsibilities of owners
As animals are the legal responsibility of the owner, owners are encouraged to have a plan for evacuation, shelter in place, and transportation of their animals in an all hazards protection and response plan.
Role of large animal owner on scene
Animal care is the ultimate responsibility of the owner, where prevention and preparation will minimize the effects of any disaster on animals.
Typically, people in these emotionally charged situations will have poor decision-making skills. The owner will be emotionally upset. Give them a task to complete that will assist with the rescue effort.
Self-rescues
Self-rescues might require rescuers to remove obstacles such as trees that are blocking the path to firm ground or safe egress. They feature the use of assist devices on the body of the animal to assist with the animal's movement towards safe ground. An animal must be physically capable of self-rescue with assistance – geriatric, exhausted, and medically compromised animals may simply lie there and not use their musculature to move.
Forbidden methods of TLAER extrication
Ropes around the head or neck
Failing to protect the head during a rescue attempt
Ropes around legs without padding
Pulling the entire animal by the tail
Winches attached to any body part
Chasing animals
Dragging on abrasive surfaces
Incorrect landmarks for a field euthanasia attempt
Tying an animal on a TLAER scene, and/or leaving animal unattended
Making hard decisions
If there are only one or two animals, your resources may allow you to salvage all of them. If there are thirty injured animals, you may be severely limited in your choices and resources. Euthanasia can be provided in a field environment by vets who are prepared.
Appropriate disaster scene and incident management includes a plan for humane destruction of large animals that cannot be saved. When properly employed, euthanasia in the field is humane and can be implemented safely.
Euthanasia in TLAER scenarios should be considered in cases of:
Poor to grave prognosis for injuries after triage and veterinary examination
Severe extent of injuries, multiple organ system involvement
Severe shock, blood loss, amputation, evisceration of organ(s)
Unresponsive to pain management
Dangerously combative, aggressive, neurologic signs
Conclusion
Disasters happen to good people and beautiful animals. Knowing that is enough incentive to learn as much as possible about emergency rescue techniques, and to build a relationship with the emergency responders in your area. It will be worth your efforts to prepare in advance because it is only a matter of time before an emergency rescue scenario happens in your community.
This article is based on Dr. Gimenez's presentation at the CanWest Veterinary Conference in Banff, AB.CVT